| | Welcome to Student Handouts |
| --- | --- |
Free Educational Materials for K-12 Teachers and Students of All Subjects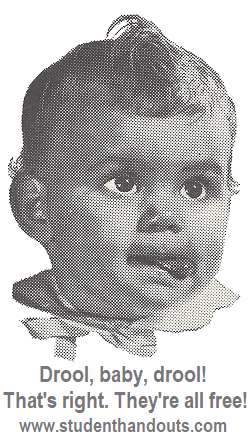 Check out some of our latest releases:
"The Executive Branch" Workbook - This 26-page workbook includes over 60 questions and activities, ranging from basic recall to critical thinking. The easy-to-follow format encourages independent student learning. It can operate as a stand-alone unit or as a supplement to the larger study of American history and government. Grades 7-12.
"Burghers of Calais" History Workbook - The Siege of Calais (1346) was a pivotal battle in the Hundred Years' War of the European Middle Ages. Learn about how England's Edward III and Queen Philippa dealt with the proposed martyrdom of the city's prominent citizens. This workbook is twelve pages in length and includes questions and activities. For grades seven through twelve.
"Macedonia, Alexander the Great, and the Hellenistic World" World History Workbook - This workbook, eight pages in length, features a readable text interspersed with questions and activities. It is designed for grades seven through twelve. The history of ancient Greece herein described traces the rise of Macedonia, through the conquests of Alexander the Great, through the spread of Hellenistic civilization, which endured until the rise of ancient Rome.
Mark Antony (83-30 B.C.E.) Biography Workbook - This free printable ten-page workbook features a biography of the celebrated Roman general and statesman, Mark Antony, interspersed with questions. Designed for grades seven through twelve.
Hannibal Biography Workbook - Learn all about this famous and powerful Carthaginian general, who led an army of elephants across the Alps to battle the Romans. Text is interspersed with questions and activities. Grades 7-12.
Diorama of Old New York - This diorama of "Old New York" is found at the American Museum of Natural History on Central Park West in New York City. It features colonial Europeans interacting with Native Americans.
Middle Ages Acrostic Poem Blank Printable - Using the letters in "Middle Ages," kids list and describe things related to the time period.
Click for some of our most popular web pages:
Attendance Forms

Everything from printable student sign-in sheets to a DIY attendance book.

Substitute Teaching Kit

Absent for the day? Covering for an absent teacher? We have everything you need to have a great day with plenty of effective learning.

High School World History PowerPoints

We have lots of PowerPoint presentations, all free, on most topics studied in high school World History classes.
EDUCATIONAL MATERIALS THAT MEET AND EXCEED THE
COMMON CORE
STATE STANDARDS
We are dedicated to providing quality, curated, unique educational materials for little or no cost as part of our mission to democratize education in the United States and around the world. We firmly believe that, given the tools, every student can achieve academic success and reach her or his full potential.
Created by Experienced Educators for Use by K-12 Classroom Teachers and Homeschooling Parents