| | Welcome to Student Handouts |
| --- | --- |
Free Educational Materials for K-12 Teachers and Students of All Subjects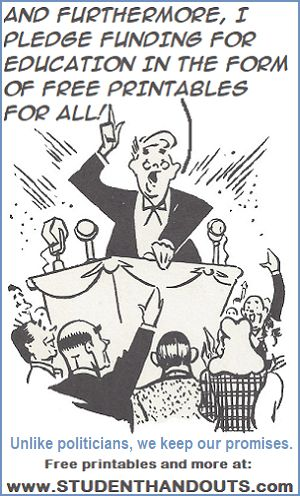 Check out some of our latest releases:
Ancient Crete: Minoan Civilization History Workbook - This student-friendly workbook is part of our World History Workbook Series. "Ancient Crete: Minoan Civilization" focuses on the culture of Crete under the legendary King Minos. Included are Crete's history and economy, as well as the legend of the minotaur and the development of our own alphabet. This eight-page history workbook is designed for use by high school students.
Establishment of the Roman Republic History Workbook - This student-friendly workbook is the first workbook of our four-part World History series on ancient Rome. "The Establishment of the Roman Republic" focuses on the founding of Rome and the establishment of the republic. It covers the political and social structure, Italy's geography and peoples, and so much more. Grades 7-12.
U.S. President William McKinley Biography Workbook - This workbook is fourteen pages in length. It features numerous questions and activities interspersed throughout the text. It is designed for high school United States History students.
Classical Civilizations Decipher-the-Code Puzzle Worksheet - Free to print (PDF file) for junior or senior high school Social Studies.
French Revolution Workbook - This "French Revolution: World History Student Workbook" is designed for students learning at the junior and senior high school levels. This workbook's 24 pages are packed with informative, easy-to-read text, questions following each section, quizzes in the middle and at the end, and so much more. Ages 12 and up.
European Renaissance Workbook - This 14-page, student-friendly workbook is part of our World History series. "The European Renaissance" focuses on the advances in art and literature that took place during the period running roughly from 1400 until 1700, as well as the socio-economic factors that fueled the Renaissance. Ages 12 and up.
"If I had a million dollars, I would..." Writing Prompt - Students complete this sentence on the lines provided. For upper elementary students.
Click for some of our most popular web pages:
Attendance Forms

Everything from printable student sign-in sheets to a DIY attendance book.

Substitute Teaching Kit

Absent for the day? Covering for an absent teacher? We have everything you need to have a great day with plenty of effective learning.

High School World History PowerPoints

We have lots of PowerPoint presentations, all free, on most topics studied in high school World History classes.
EDUCATIONAL MATERIALS THAT MEET AND EXCEED THE
COMMON CORE
STATE STANDARDS
We are dedicated to providing quality, curated, unique educational materials for little or no cost as part of our mission to democratize education in the United States and around the world. We firmly believe that, given the tools, every student can achieve academic success and reach her or his full potential.
Created by Experienced Educators for Use by K-12 Classroom Teachers and Homeschooling Parents